Qurbani Eid 2015- Bakra Eid Cows-Prices of Fatest Cows- Prices Of Cows Weeras and Dumbas
Moon of Zil-hajj had sighted. Moon of Zil-hajj Mubarak to all. Eid-ul-Azha will be celebrated on 25 September 2015. The most interesting aspect of this Eid Qurbani 2015 is buying of Goat and Bull. I will use typical language for interest of people. Because if i will not use our typical language you will not enjoy it. As usual the prices of bakras and wairras is very high.
Watch Fattest Cows videos
Visit daily-motion for videos.
All fattest cows video available there
Prices of Bakras and Weeras
The average price of normal Bakra is ranges from 25,000 – 30,000 and average price for weerra is from 60,000 – 80,000. These prices are now out of range of a common man. While the prices for special Bakras and bulls are too high.
Bakra Eid 2015 Powerful & Dangerous Bull Qurbani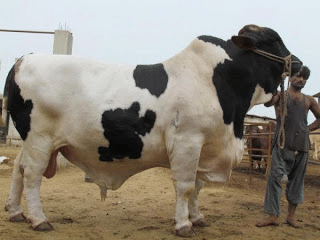 One other interesting point is the interesting names of these special bakras and wairras in Qurbani Eid 2015. The some interesting names are "ROOP KI RANI, KALI CHARAN, BHOLA, KALO, and SHAHRUKH KHAN" etc.
Bakra Eid Cows Slaughter 2015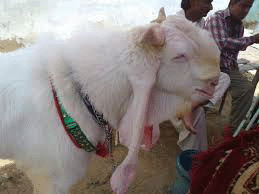 The bakra you are seeing in picture it costs of 90,000. According to its owner he spends daily more than 1000 rupees from 2 months. his diet consists of milk,grains and green plants etc. His name is "BABBLU". The name of wairra you are seeing in pic is "MASTANA MAHI". His owner demand of rupees 5 lacs. He told that his wairra veats daily milk, desi ghee, grains, roti and boiled eggs. He loves his wairra very much and he cares for it very much. another interesting wairra you are seeing in pic its name is "BLACK TIGER". According to his owner his wairra eats butter, milk, almonds and cold drinks also. He demands for it 3.5 lacs.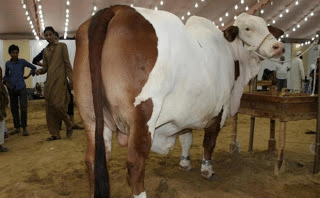 Beware of frauds. Enjoy cattle markets and a happy Eid-ul-Adha.
by Shujaat Hussain