Islamabad Thriller – Knock Out Bollywood Movie – Gunman Arrested by Police
Islamabad Thriller……now become the Bollywood movie " Knock out " . An armed man who entered in Jinnah Avenue (Red Zone of Islamabad ). This man have two automatic guns and he fires on the Islamabad police and crowd . This armed man looks that he plays the role of Bollywood actor " Irfan Khan " . He creates dramatical situation , when he smoking and drunk energy drinks (red bull) .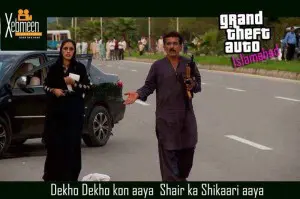 UMMMM…. I want to know that anonymous one who is playing the role of Sanjay Dutt in this thriller movie . Well , its the totally disaster of Islamabad Police and the agencies of Law of Enforcement .This armed man exposed the whole power of Islamabad Police . That's why they gifted us the shooting of the thriller movie in Islamabad.
But finally, a PPP leader Zamourad Khan came in this movie ,and it comes to be an end. When he pushed him , and an armed man fall on . Meanwhile rangers caught him , and this is the end of Islamabad knock out movie. But it left so many questions in our mind , about the security of our capital city, Islamabad.