How Teachers Teaches in Colleges? – How We Can Teach The Best? – Teachers Tributes
5 October is celebrated as WORLD DAY FOR TEACHERS. My this article is tribute to teachers all around the world. the purpose of celebrating this day is to appreciate the work of teachers. Teacher plays an important role in the in the life of students. Personality of teacher has its great effect on student. The influence of good teacher can never be erased. A teacher who is attempting from the  teach without inspiring the pupil with a desire to learn is hammering on a cold iron. The best teacher teach from the heart not from the book. A good teacher is like a candle, it uses itself to light the way for others. A teacher meets a hand, opens a mind and touches a heart. Better than a thousand days of diligent study, is one day with a great teacher.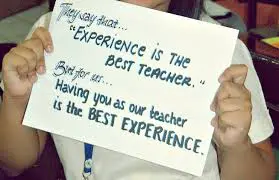 TEACHINGS OF ISLAM ABOUT TEACHER:-
HAZRAT MUHAMMAD (P.B.U.H) was the greatest reformer of world. Islam has given respect to teachers in society. teacher is equal father for a student. Hazrat Ali (R.A) said that "one who taught me one word, he is my teacher". Islam prohibits the abuses and immoral words for teachers. One who respect and love his parents he must love and respect his teachers.
Watch Video Of Teachers :-

Teachers video by Daud Mughal
MY PERSONAL VIEW:-
The students who blame teachers for there failure i want to say them that "teacher opens the door only, but you must have to enter by yourself". I want to thanks all my teachers for all the things they have done for me, for your patience and caring , kind words and sharing, i just want to say "thank you". And while writing this article i have tears in my eyes for all my teachers and the time which i have passed with them and i will never forget them in my whole life. You guided me, you supported me, any amount of thanks, wouldn't be enough. Therefore, i'm just paying you my wishes. All of you may live long and ALLAH will bless you. This article is for all teachers all around the world from me, read it and share it with your teachers. IF YOU CAN READ THIS, THANK A TEACHER. Respect  your teachers.
theme by Shujaat Husaain