Barat Dresses 2015 for Brides and Grooms
Each function of wedding is special for bridal and groom but the day of barat has some extra importance in the sense of dressing and preparations because it is the main event of wedding when guests of both families (Bride & Groom) are gather at the same function. Everyone is looking for bride and groom dresses and it is necessary to look gorgeous and stunning for both of them. Due to the whole scenario you should select best dressing for your Barat function. Here we collected some new barat dresses 2015 especially for Pakistani bridals and Grooms: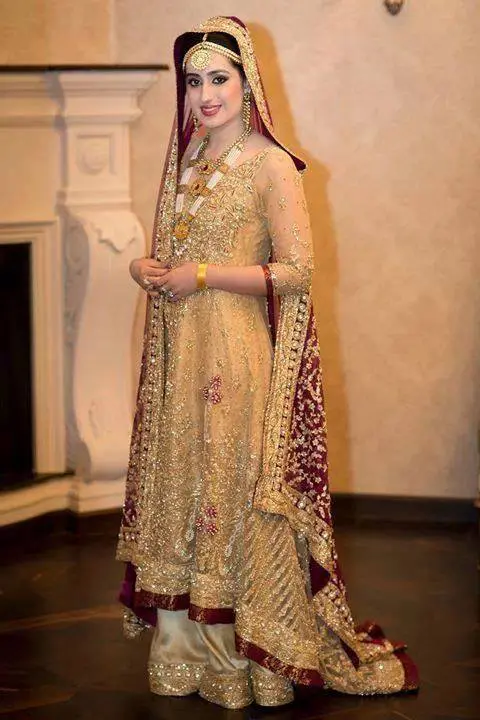 Barat is a day when a bride first time shifted her home from her parent's home to her groom home. In a new modern days brides have a photo-session on her barat day so it is important to look attractive and your dress is comfortable to move and change different positions easily during photography of your wedding.
See Pics of Bridal Wedding Dresses for Barat Function:
Due to large collection of wedding dresses it is now more difficult to select one from the wide variety of designers. It is good idea to explore all famous bridal dresses online before going to actually purchase them on local outlets. The prices of barat dresses also vary, although you may only wear it only once but it would be remember-able for you in your whole life in the form of photos and wedding videos. So you should not compromise with the design and quality of your barat wedding dress.
There are many colors available for bride as well as for groom. Brides usually wear lehenga on barat with maroon, red, blue, green, pink and many other colors. You can select any color from the available variety. Don't go with crowd, if you like any unique color, just choose it. Nowadays multi-color Pakistani lehenga are also in latest trends. But you should take some care when selecting barat lehenga color. If your face color is fair then you can go with any color even with dark colors but if have pale dark-skin then avoid with dark colors. Now see Some beautiful dresses for men or grooms:
See Images of Barat Dresses for Groom:
Hope you like these bridal wedding dresses we selected for main events. If you have better suggestions, you are welcome to leave your comments. Share theses pictures on Facebook and other social sites to get more ideas and suggestion from your friends and followers.